New Pre-Natal Massage Testimonial
2009.01.27 Tuesday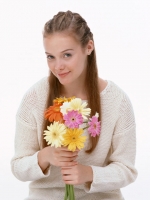 2008.10.08 American Female 30"s
Pre-natal Massage

I DISCOVERED KAY IN SEARCH OF CERTIFIED PRENATAL
MASSAGE THERAPY WHEN PREGNANT WITH MY FIRST CHILD.

KAY IS HIGHLY KNOWLEDGEABLE ABOUT VARIOUS MASSAGE THERAPY
TECHNIQUES AND INTUITIVELY INCORPORATES ELEMENTS FROM MANY
TECHNIQUES TO PERSONALIZE YOUR THERAPY SESSION.

SHE HAS STRONG HANDS (WHICH IS IMPORTANT FOR ME) AND IS VERY RESPONSIVE TO MY REQUESTS.

I FIND HER TREATMENT STYLE UNIQUE, AS SHE IS ABLE TO
FIND HIDDEN OR NEGLECTED MUSCLES THAT ARE SUFFERING FROM TENSION.

SHE INTRODUCED MYO-FASCIA TISSUE RELEASE TO ME,
AND I FIND IT VERY THERAPEUTIC. I AM A VERY DISCERNING
MASSAGE THERAPY CUSTOMER, AND TEND TO BE LOYAL ONCE
I FIND THE RIGHT COMBINATION OF SKILL, TALENT AND VALUE.

I HAVE ENTHUSIASTICALLY RECOMMENDED HER TO A NUMBER
OF MY FRIENDS AND COLLEAGUES...AND THEY ARE ALL JUST AS
HAPPY WITH HER THERAPY AS I AM.

IT'S ALSO VERY NICE TO WORK WITH SOMEONE WHO
COMMUNICATES EASILY IN ENGLISH. I AM COMFORTED
BY THE FACT THAT HER TRAINING WAS RECEIVED IN NYC,

WHERE I BELIEVE THE OVERWHELMING COMPETITION ONLY
ALLOWS THE TALENTED TO SUCCEED. I ALSO APPRECIATE
THAT SHE IS FLEXIBLE AND TRIES TO ACCOMMODATE HER
CLIENTS' SCHEDULE REQUESTS AS MUCH AS POSSIBLE,

INCLUDING WEEKENDS, LATE EVENING HOURS AND SHORT
TERM REQUESTS. SHE IS HIGHLY PROFESSIONAL AND A PLEASANT
PERSON AT ALL TIMES.

I TYPICALLY PREFER A COMBINATION OF DEEP TISSUE,
TRIGGER POINT, SHIATSU AND MYO-FASCIA, BUT TRUST
THAT SHE IS CAPABLE OF PROVIDING QUALITY MASSAGE
BY ALL OTHER TECHNIQUES.